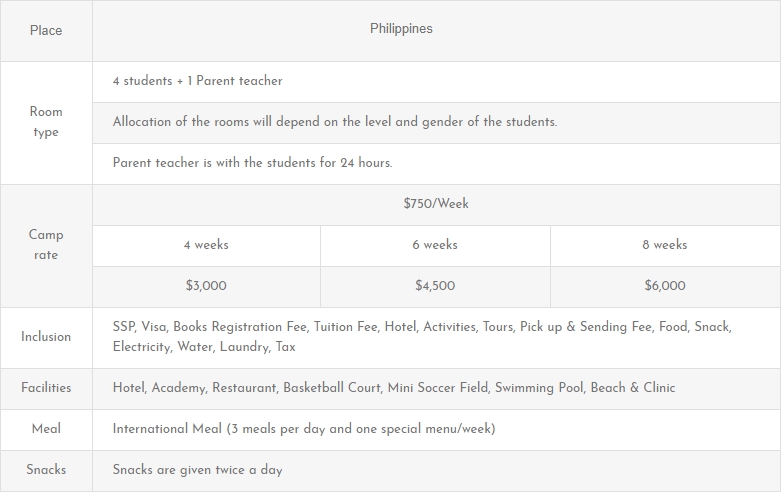 Requirements
Checklist
Documents
Passport – Check the validation date. Make sure its expiry date is longer than 6 months. Keep 1 xerox copy and 2 pictures just in case of loss.
Visa – Philippines offer free visa for 21 days. One can also apply for 59 days visa from Korea before coming to the Philippines.
Plane ticket – Make sure to check the spelling of your name, seat number, departure date and return date. Keep one extra copy. Make sure to check the seat status if it is stated 'OK'
Currency exchange – Have your 50 and 100 US bills exchanged to peso.
Credit or debit card – Bring only credit or debit card with the sign of VISA and MASTER with you; these can be used in the Philippines.
Traveler's insurance – Apply for your own traveler's insurance just in case of any possible accidents.
Classes and studies
Dictionary – electronic dictionary/ paper dictionary. This will be very helpful and make sure to bring a lot of spare batteries for our electronic dictionary.
Writing materials and notebooks – writing materials such as pencils, ballpens, notebooks are available. However, Korean materials are more high quality.
Clothing
Caps – needed during activity/tour days.
Shorts – bring at least 3~4 pairs.
Long pants – bring at least 2 pairs, it could be worn when going out.
T-shirts – bring at least 4~5 pieces.
Underwears
Socks
Swimsuit
Jacket – waterproof jacket is highly recommended
Shoes – slipper, sandals and rubber shoes
Hygiene
Toothpaste & toothbrush
Soap & shampoo
Make-up
Sun block
Towel
Tissue
Shaver
Others
Sunglass
Umbrella
Camera
Watch
Personal medicine
220V Adapter